The Centers for Disease Control and Prevention (CDC) reports that 31 more people have fallen ill after eating romaine lettuce contaminated with E. coli. An investigation is underway to determine the source of the vegetable, but officials say it likely came from the Yuma, Arizona, region.
As of Wednesday evening, there are 84 cases spanning 19 states, according to the CDC. Nobody has died since health officials began giving updates April 18. Colorado, Georgia and South Dakota were the three new states added to the list Wednesday.
Officials say romaine lettuce in stores and restaurants now is likely from California and not from the region where the tainted lettuce originated.
CDC advice to customers, restaurants
– Do not eat or buy romaine lettuce unless you can confirm it is not from the Yuma, Arizona, growing region.
– Avoid whole heads and hearts of romaine, chopped romaine and salads and salad mixes containing romaine lettuce.
– Product labels often do not identify growing regions; so, do not eat or buy romaine lettuce if you do not know where it was grown.
Pennsylvania has seen the largest amount of illnesses, totaling 18, followed by California with 13 and Idaho with 10, according to the CDC.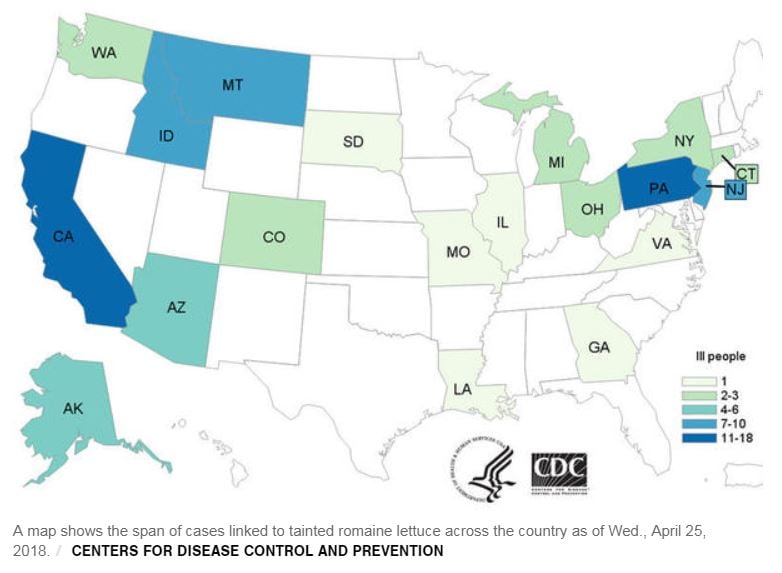 The CDC says 42 people have been hospitalized so far, including nine people who have developed a type of kidney failure called hemolytic uremic syndrome (HUS).
Most people develop symptoms like diarrhea, severe stomach cramps, and vomiting — and recover within a week.
"What's concerning me at this point is there's an unusually high hospitalization rate," said Bill Marler, a food safety lawyer.
He represents Louise Fraser, who is suing Panera Bread, claiming she contracted E. coli after eating romaine lettuce at one of their restaurants in New Jersey and, as a result, was hospitalized for weeks. She says she was diagnosed with kidney failure, which required several blood transfusions. She's now suing both the restaurant and its supplier, Freshway Foods, Inc.
"The restaurant, the grocery store is responsible for any of the food that they sell you," said Marler. "If it is contaminated with a pathogen, it's defective. The chain of distribution that supplied that is ultimately responsible."
Panera Bread officials told "CBS This Morning" they "don't comment on pending litigation," but said they "have re-supplied with romaine from other regions."
Freshway Foods Inc. has not responded to CBS News' request for comment.
Consumer Reports is advising people to avoid all romaine lettuce because "It's unrealistic to expect consumers to figure out whether their romaine was produced in Arizona."