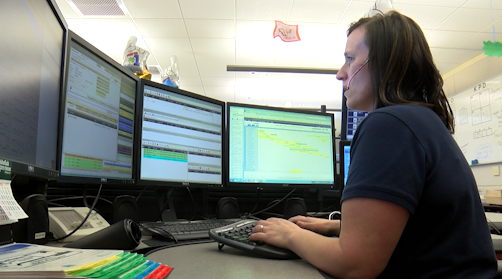 KALISPELL – Last week was set aside to honor the voices on the other end of your 911 calls.
It's a job dedicated to public safety and a job that carries a heavy burden. This week's Salute to Service features a Flathead County dispatcher who is going above and beyond.
Shannon Hunt is the face behind one of the many voices guiding law enforcement and answering our 911 calls in Flathead County. Her voice may be the first you'll hear when you need help, and sometimes the last.
"In progress crimes, fights with family, suicidal calls, all that you are right there living that and you have to ask specific questions so you can paint that picture for our officers and responding units," Hunt said.
There are typically five dispatchers that work each shift answering both emergency and non-emergency calls throughout the county inside the 911 Center.
Every year during National Public Safety Telecommunicator Appreciation Week, Flathead 911 selects a Dispatcher of the Year — and Dispatcher Hunt was selected for the honor this time around.
"Besides being a great dispatcher she's been a fantastic role model for everyone, not only does she set a shining example for public service in her daily work she also does a lot in the community," said Flathead County 911 Center director Liz Brooks.
"She does a lot to help lift up other dispatchers if they're down, she does a lot to try to encourage positive morale on the floor which sometimes can be tough," Brooks added.
"I love what I do, I love serving the community, I feel I was born to do it, I have a pay it forward attitude and really do feel that one person at a time we can change the community together," said Hunt.
We thank all the dispatchers for everything that they do.