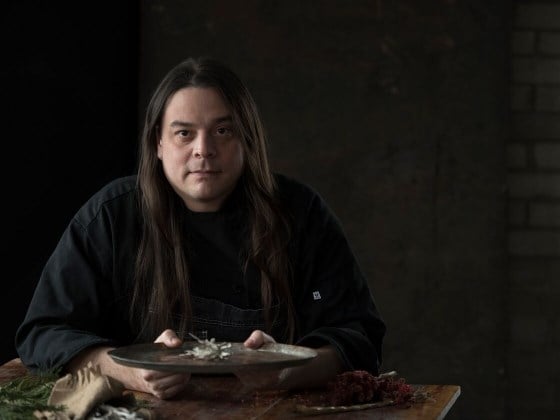 Sean Sherman, founder, CEO and co-owner of the company The Sioux Chef, will deliver a public lecture and host a fundraising dinner during his April 10-11 visit to MSU. (Photo courtesy of Heidi Ehalt)
BOZEMAN – A renowned chef of Native American cuisine will visit Montana State University in April to deliver a public lecture and host a fundraising dinner.
Sean Sherman, founder, CEO and co-owner of the company The Sioux Chef, will deliver a public lecture on Native American cuisines in today's world at 7 p.m. Tuesday, April 10, in the MSU Strand Union Building Ballrooms.
Doors will open at 6 p.m. Sherman will sign copies of his new book, "The Sioux Chef's Indigenous Kitchen," immediately following the lecture.
On Wednesday, April 11, Sherman will host a fundraising event, "Dinner with The Sioux Chef." The dinner, which Sherman will prepare with MSU and Gallatin College MSU culinary students and MSU culinary arts staff, is a fundraiser for Montana ProStart, a two-year program that develops culinary, leadership and food service skills in high school students.
The dinner will begin at 6:30 p.m. in MSU's Hannon Hall, with doors opening at 5:30 p.m. Dishes for the event will include stewed rabbit with sunchokes, dandelions and dried strawberries; roasted yucca puree with watercress, smoked trout and rose hips; cedar-braised bison with turnips, huckleberries and corn shoots; and sunflower and amaranth tarts with local apples, mint and squash.
A cash wine and beer bar will be provided by Plonk.
Tickets for the lecture are $10. Tickets for the fundraising dinner are $100 for an individual, $175 for a couple or $720 for a table for 9. Tickets for both the lecture and dinner are available at the MSU Ask Us Desk in the Strand Union Building, at the Bobcat Ticket Office in the Brick Breeden Fieldhouse or online at TicketsWest.
Sherman, who is Oglala Lakota, was born in Pine Ridge, South Dakota. He has been cooking in the U.S. and Mexico for 30 years and is internationally renowned in the culinary movement of indigenous foods. Sherman has been focused on the revitalization and evolution of indigenous foods systems throughout North America and has worked to gain a better understanding of how to bring back Native American cuisine to today's world.
In 2014, he opened a catering and food education business, The Sioux Chef, in Minnesota. He and his business partner, Dana Thompson, also launched and previously operated the Tatanka Truck in partnership with Little Earth of United Tribes. The food truck featured foods common in the Dakota and Minnesota territories before Europeans arrived.
Sherman said his work is motivated by a desire to raise awareness about indigenous food.
"We really want to share as much of our knowledge as we can and show young people that it is possible to eat very locally in a sustainable and environmentally friendly way," Sherman said. "They need to know what foods are traditionally from their area, how to procure those foods and how to make delicious meals with them."
Sherman's visit to MSU illustrates the university's commitment to local, sustainable foods, according to Richard Huffman, director of MSU Culinary Services.
"By bringing Sean Sherman to campus, we are really saying that we are committed to expanding our efforts with regard to indigenous foods and outreach and education around those foods," Huffman said. "The star power of Chef Sherman and his work in education and in the culinary world helps us reach out not only to our own students and educators, but to our Bozeman community and the larger Montana community as a whole."
Sherman's visit to MSU is sponsored by MSU Culinary Services in collaboration with the MSU Department of Native American Studies and Gallatin College MSU's culinary arts program.
For more information about Sherman's click here.