BELGRADE - Do good work and success will come - that's the foundation of most of Montana's small businesses.
At Split Mountain Metals in Belgrade, a couple whose good work took them all the way to the nation's Capital embodies that philosophy.
Running a family business can be challenging. Brad and Carlie Brenteson know that well.
Seven years ago they made the decision to work for themselves instead of someone else. That was the beginnings of Split Mountain Metals.
But making a quality product is one thing, letting potential clients know about it is another.
"We went around with fliers to get our name out there," said Brad Brenteson. "Stuck fliers up in any business that would pretty much let us. (Tried) to advertise on Facebook as much as we could. Built some cool parts that we thought people would like and started doing shows, any show we could get into around the state. Any trade fair, farmers market, county fair, whatever we could get in to and set a little booth up and really try to push our stuff. "Locally, in Conrad where I'm from, there's a lot of work there for ranch signs and things so (we) got some buddies convinced to let us build them a sign and it just started growing from there," Brad said.
They soon added powder coating - with a large oven they can handle large components - and the work kept coming.
It wasn't always easy. There are challenges when business partners are also life partners.
"Working with my wife is great," said Brad. "It's definitely challenging being with anybody all day, all night, every day. But you've just got to keep business at business and home at home."
"Which is also a challenge to do and to not think about what you have for the next day and to talk about what needs to get done or what needs to get powder-coated and how you're going to do it and think about that at home," he added. "It's really hard to separate those two out."
As with most small businesses, they succeed by word of mouth. Split Mountain had done quality work for the Washington Corporation in Missoula. That work led Split Mountain to a once-in-a-lifetime project - to create the star for the top of the National Christmas Tree.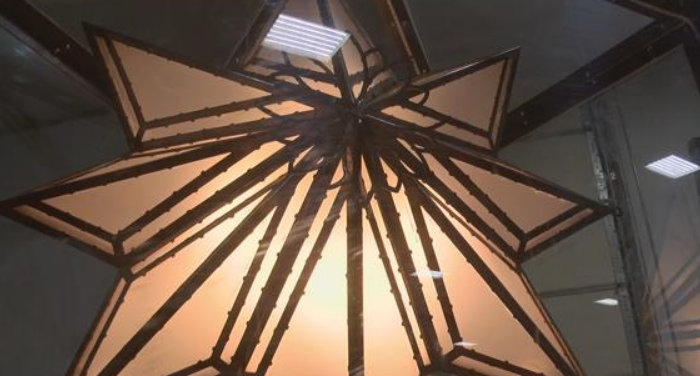 "(It) really kind of fell into our laps," said Brad. "We'd done work for Washington Corporation before and they had contacted a couple Missoula companies, they weren't able to to get it done in the timeline that they needed. So they ended up calling us, just from past experience, and we were able to meet their deadline."
Brad says the biggest key to success is love what you do.
"You have to really love it," he said. "It's hard to not get burned out on it sometimes, especially when you're needing to do maybe a week of 20 hour days to get a huge project done. It's extremely overwhelming and it's hard to not get burned out. But if you take couple minutes and step back and take a couple breaths and look at it, it's easy to get back into it if it's something you love."
Brad says the company is hoping to expand their powder coating operation, but he would also like to get back to doing more machine work.