BILLINGS - Mayor Bill Cole strongly condemned Monday a recent string of hate acts in Billings as "racist and bigoted criminality," calling them "deplorable" and stating they have "no place in Billings or any other community."
On Jan. 23, images of male genitalia, a Swastika, 666, and KKK were spray painted on the walls of Lewis & Clark Middle School, Senior High School and on a public walkway in Pioneer Park.
Later that week, anti-LGBTQ literature was posted in the lobby of Grace Methodist Church on Avenue B. A swastika was also spray painted on a rainbow flag posted in front of the church.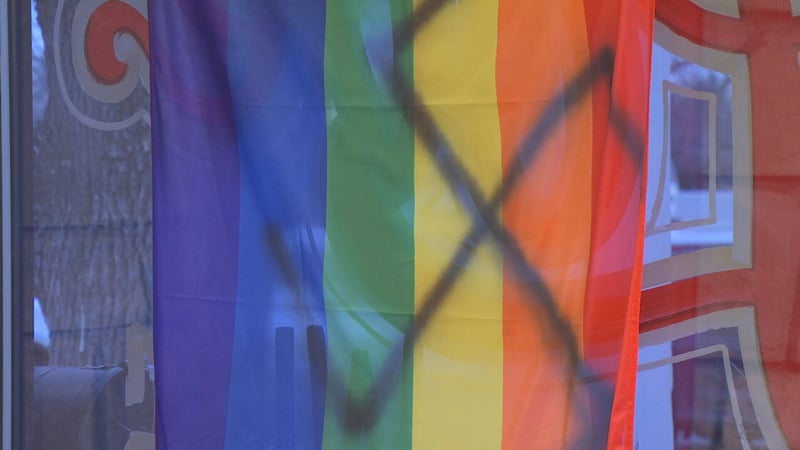 ?
"Every effort is being made to apprehend and punish the criminal perpetrators," Cole said Monday night at a Billings City Council meeting.
While police have not identified any suspects, they do have leads, including a possible witness to the crimes. That individual has not been identified.
"At this point, we haven't seen anything that rises to a federal prosecution," Chief Rich St. John told council, speaking of the partnerships with federal agencies such as the FBI and Homeland Security. "What that partnership does is give us reach."
The state of Montana does not have a specific hate-crime statute, but punishment can be longer for crimes that specifically target minority groups.
"Any crime that a person could be arrested and convicted of, if we show that it was done on bias or discrimination, that is a sentence-enhancement," St. John said.
Anyone with information is urged to contact the Billings Crime Prevention Center at 657-6484.
Watch Cole's statement in the video below:
See also: Billings church struck with Nazi graffiti for second time in 8 days
See also: Billings police seeking vandals who spray painted swastikas, other graffiti on schools