BILLINGS - Now that Lockwood voters have declared they want a high school, school district officials are weighing whether to expand the current middle and elementary school or campus or find a new spot off site.
After looking at a number of possible off-site options, district officials have narrowed it to two locations. The cost for one of the sites is $2.6 million and the other is $4.25 million. Both options include $2 million in development costs.
The cost of expanding the current campus would be about $1.4 million, which is roughly between $1 million and $3 million less than an off-site expansion project. Planners said about 26 acres are "generally available" to expand the current school.
District Superintendent Tobin Novasio said an on-campus option would allow elementary and middle school students to use the high school facilities more easily.
"If we build it on campus, those facilities will be able to be used by K-12 without having to worry about busing kids over," Novasio said.
But some people are concerned about the on-campus expansion option, he added.
"The biggest concern that we've heard is pedestrian traffic and that's something we deal with here in Lockwood quite a bit, historically," Novasio said.
According to Novasio, the new Lockwood high school would start its first year with only freshman and sophomore classes. In the next 10 to 15 years, the student population would likely grow to about 600 for four grades.
"The very first fall we would enroll freshmen and sophomores and then add a class each year. So it would be a three-year process until we had full enrollment," Navasio said.
A straw poll taken at a Wednesday community meeting showed strong support for the on-campus option, Novasio said.
"It's really not a matter of if you want to pay for a high school. It's, where do you want to build a high school?" Novasio said.
Below are some images of the potential expansion sites, Site A being the on-campus option: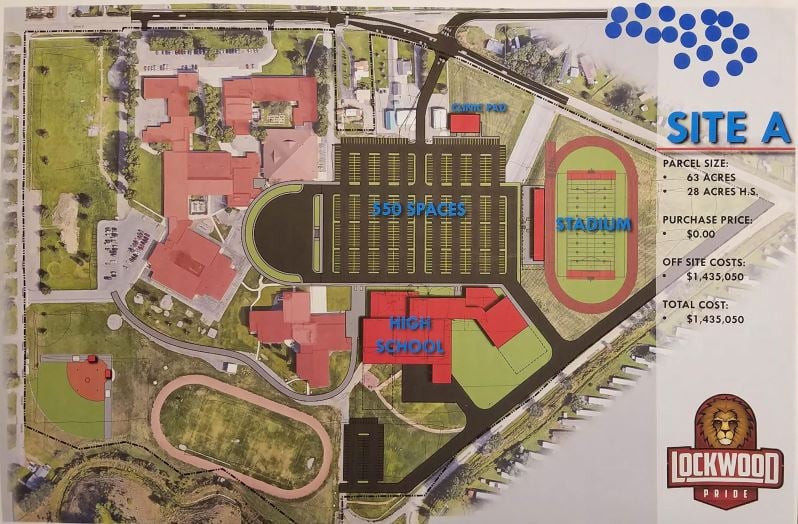 Site A - On-campus expansion option (Photo courtesy of lockwoodschool.org)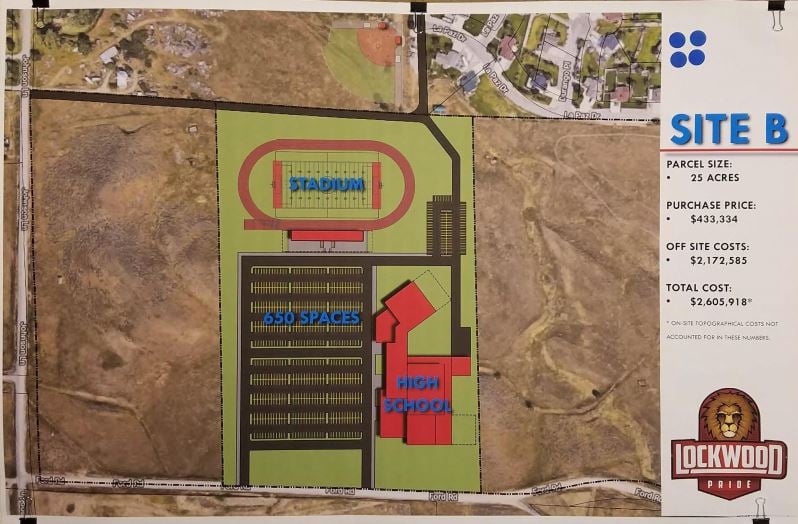 Site B (Photo courtesy of lockwoodschool.org)
Site H (Photo courtesy of lockwoodschool.org)