President Trump signed an executive order and a presidential memorandum in Nashville on Monday afternoon directing his administration to use "all viable tools to accelerate the deployment and adoption of affordable, reliable, modern high-speed broadband connectivity in rural America."
According to the Federal Communications Commission's 2016 Broadband Progress Report, 39 percent of rural Americans, roughly 23 million people, do not have access to high-speed internet.
"I will take the first step to expand access to broadband internet in rural America so you can compete on a level playing field, which you were not able to do. Not fair," President Trump said.
Secretary of Interior Ryan Zinke applauded Trump's commitment to rural broadband access.
"President Trump's order will help bridge the digital divide for the millions of Americans who live in rural areas. Whether it's a student taking a class via distance learning, a small clinic practicing telemedicine, or a mom-and-pop garage small business using e-commerce platforms, expanding high-speed broadband access will have incredible benefits for rural America," Zinke said.
U.S. Senator Jon Tester commented on the move as well.
"Access to broadband will strengthen Montana schools, businesses, hospitals and families. While we are making progress, there are still too many places in our state where that access is out of reach. I will be working with Republicans, Democrats and President Trump to ensure that investments in rural broadband are included in the upcoming infrastructure bill," Tester said.
Last fall, Montana regulators were thinking the same thing when they approved $100 million in federal funds to subsidize private development of rural broadband. That action was one reason Montana already has a head start in providing broadband to rural residents in need.
(Photo courtesy of broadbandmt.com)
Today, independent rural Montana telecommunication providers cover more than 70 percent of Montana's 147,040-square-mile landmass with high-speed broadband internet access, according to the Montana Telecommunication Association's 2016 Broadband Report.
Broadband refers to high-speed internet connectivity that uses high-speed transmission technologies including digital subscriber lines (DSL), cable modem, fiber, wireless, satellite and broadband-over-powerlines (BPL).
As of mid-2016, the Montana Telecommunication Association (MTA) member companies installed over 20,000 miles of fiber optic cables across Big Sky Country.
By the end of 2017, all rural Montana schools were connected to high-speed Internet, primarily using fiber-optic technology. Seventeen highly remote schools are connected through point-to-point wireless technology but still accommodate the Federal Communication Commission's goal of 1 megabit per second per student.
MTA member companies use fiber optic technology in their rural infrastructure expansion because it is cheaper and faster than copper based services, according to the report. Fiber optic Internet access is also more efficient across long distances compared to copper cables.
Since 2011, rural providers have invested $248.6 million in fiber optic Internet technology across a 100,715-square-mile area in Montana.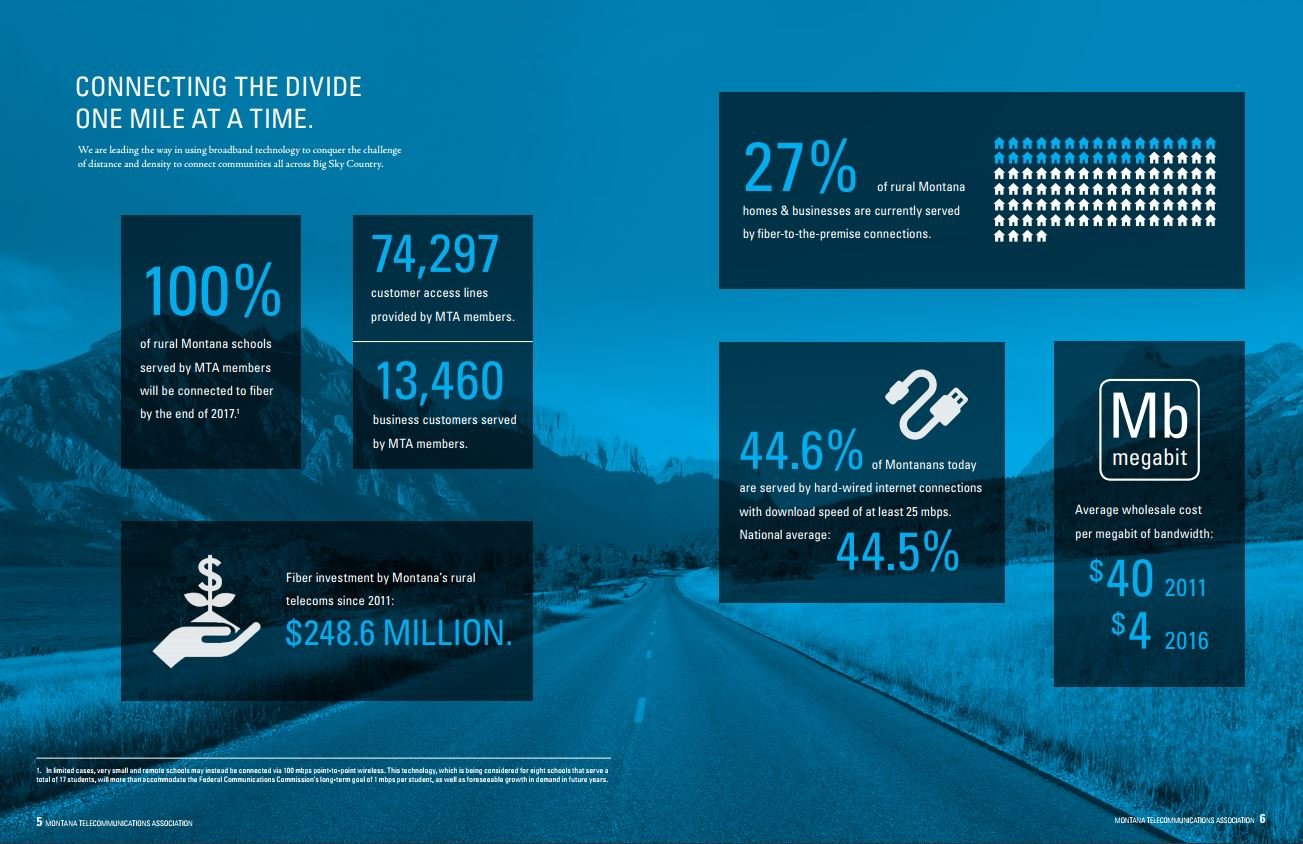 (Photo courtesy of broadbandmt.com)
However, stringing cables through expansive back country is cost prohibitive, according to the MTA.
With an average per-mile fiber optic installation cost of $30,000 in rural Montana and an average of 0.35 to 3.05 customers per square mile, the cost to build broadband infrastructure surpasses the amount of income providers make from customers reached. The average cost of fiber optic construction per rural Montana resident is $10,000.
To cut costs for rural broadband providers, the Montana Public Service Commission voted unanimously in October 2017 to secure over $100 million in federal funds to support the build out of broadband networks in high-cost areas in Montana.
"We're talking about geographies where the cost to build out fiber networks vastly exceeds the revenue a company could ever hope to receive from customers," Commissioner Bob Lake, R-Hamilton, said of the vote.
"Without this support, it simply wouldn't be feasible for most carriers to make the investment needed to serve our rural communities," he said.
While a majority of Montanans can get high-speed Internet in rural areas, more work needs to be done.
According to BROADBANDNOW, 25 percent of residents are still under served, meaning they receive less than 25 megabits per second, the FCC standard.
In total, 121 Internet providers are operating in Montana, but 210,000 people only have access to one provider without the ability to switch their service.
Fifty thousand Montanans still have no wired Internet providers available where they live.