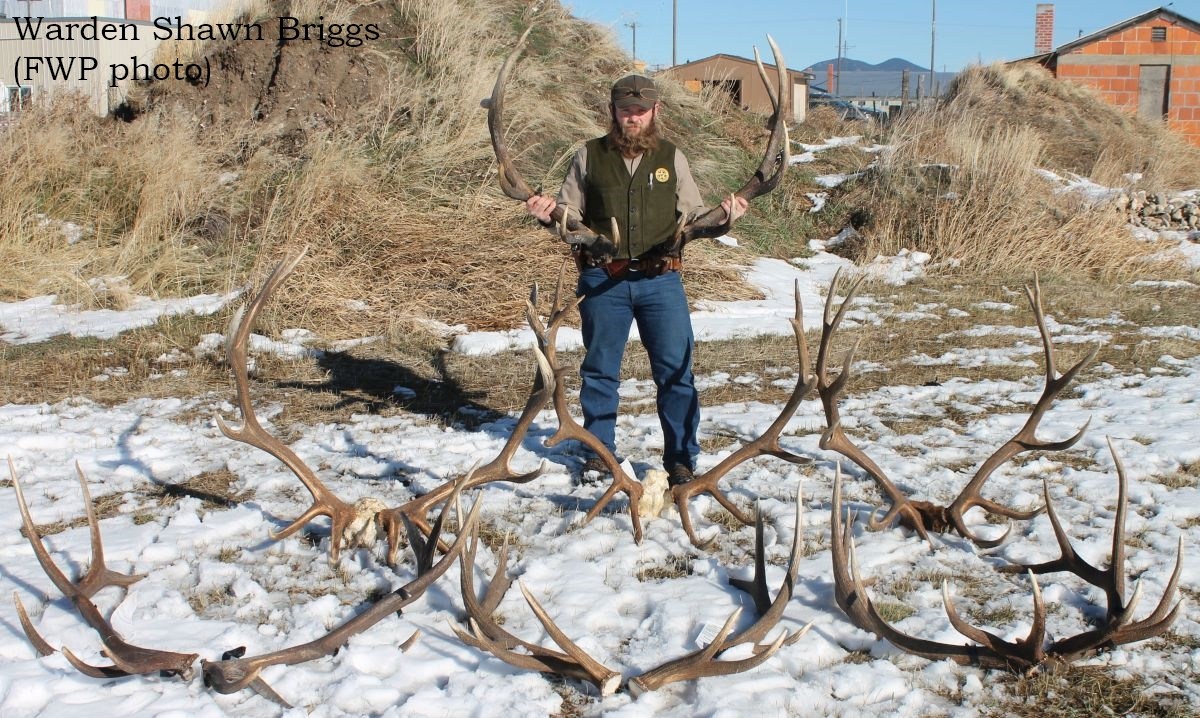 Two brothers were charged with 16 crimes, including eight felonies, stemming from what Montana Fish, Wildlife and Parks officials describe as years of poaching activity on a ranch in Fergus County.
James Stephen Page, of Garneill, Montana, and William Thomas Page, of Spokane, Washington, are accused of illegally harvesting eight bull elk over several years on the 3 Bar Ranch, which is on the west side of the Snowy Mountains, southwest of Lewistown.
"The Pages are accused of serious crimes that should concern all sportsmen and sportswomen in Montana. Our team worked very hard to bring these two men to justice," FWP Warden Shawn Briggs, one of three FWP game wardens who worked the case, said in a press release.
Seven of the poached bulls qualified as trophy animals, according to charging documents filed by Fergus County Attorney Kent Sipe in the 10th Judicial District Court in Lewistown.
"FWP's thorough investigation revealed repeated illegal conduct by the Page brothers," Sipe said. "My office takes this conduct seriously, which is evidenced by the charges we filed."
State law defines a trophy elk as having at least six points on one antler; a main beam length on each antler of at least 43 inches and an inside spread of at least 36 inches. The largest bull elk allegedly poached by the Pages scored 365 by the Boone & Crockett measuring procedures.
James Page is charged with six counts of felony unlawful possession of game animal (trophy bull elk), two counts of felony tampering with evidence, one count of misdemeanor hunting without a license, and two counts of misdemeanor failure to obtain landowner permission for hunting.
William Page is charged with one count of felony unlawful possession of game animal (trophy bull elk), one count of misdemeanor unlawful possession of game animal (non-trophy bull elk), and three counts of misdemeanor purchase of resident hunting license by non-resident.
If convicted, the brothers could lose their hunting and fishing privileges in Montana for life, and also face thousands of dollars in fines.
According to charging documents, the investigation conducted by Briggs, Warden Investigator Bryan Golie, and Warden Trey Gacke showed that the Pages hunted the 3 Bar Ranch in hunting district 411 without permission and without proper licenses between 2006 and 2016.
---
---
On its website, FWP provides the following information about poaching:
Poaching is the illegal killing of fish or wildlife. It can include illegal killing of fish or wildlife:
for commercial trade
for ego gratification
in closed areas, during closed times, or taking more than the law allows
Poachers:
reduce recreational opportunities for law abiding anglers, hunters, wildlife watchers, and other outdoor enthusiasts
kill and waste Montana game animals, threatened and endangered species, and even nongame animals
target Montana's fish and wildlife resource for personal profit
Poaching robs law abiding hunters of game and fish, businesses and taxpayers of revenues generated by hunting, fishing, and wildlife viewing recreation, and it denies many other Montanans the ability to enjoy seeing healthy, mature fish and wildlife populations.