BILLINGS - Q2 is once again joining with The Billings Food Bank for the annual Turkey Tuesday event.
Through 6 p.m. on Tuesday, Nov. 14, the news crew and volunteers will be stationed outside in the KTVQ parking lot at 3203 3rd Ave. N. collecting frozen turkeys and donations to help those in need during the holidays.
All donations will go to the Billings Food Bank.
Q2 will be giving away tickets to this weekend's Cat-Griz game. Donate a turkey, sign up for the drawing and say Hello! to the Q2 News team!
We will draw the winning tickets during the 5:30 p.m. newscast.
Video Extra: Turkey Tuesday with Sheryle Shandy
Video Extra: Turkey Tuesday with Chief Rich St. John
Video Extra: Turkey Tuesday with Jeff Ewelt
Video Extra: Turkey Tuesday with Sheriff Mike Linder
Video Extra: Turkey Tuesday with Brian Luptak of Cenex Zip Trip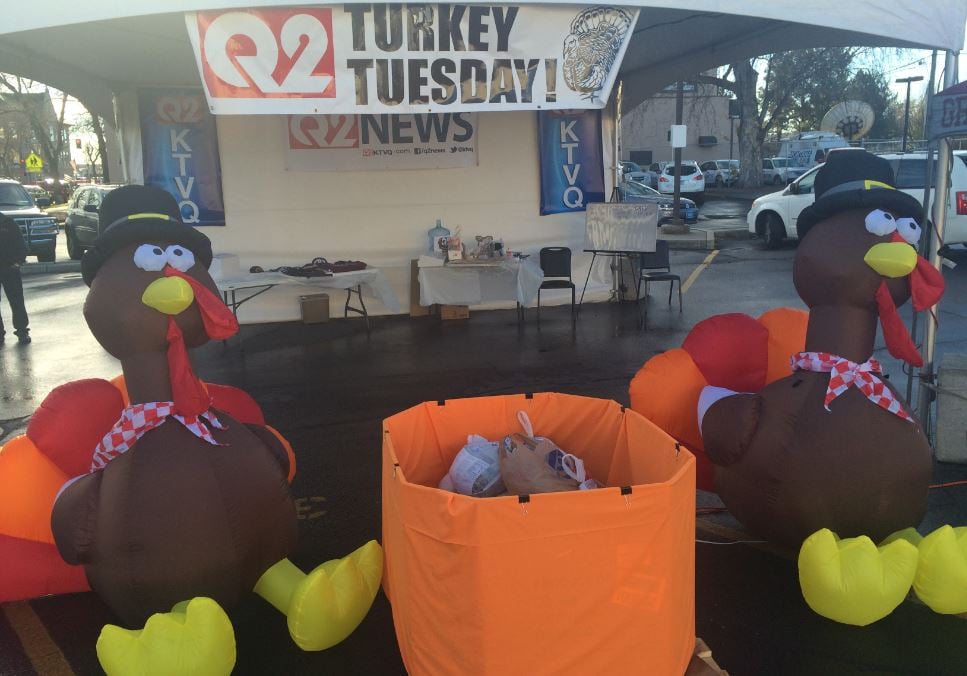 Here's some background on the great work done by The Billings Food Bank:
The Billings Food Bank gathers food and other essentials to meet the needs of the under privileged in our community. The food bank accepts donations of food all year around and each and every donation is greatly appreciated. The Billings Food Bank is always looking for volunteers to help with processing and distribution of the food that is collected.
The food bank provides food to various client programs at no cost to the agency or to their individual clients. Because of volunteers and their tremendous support, the food bank is able to provide an abundance of support on a low operating budget. The daily operation expenses currently consume less than 5% of the total revenue generated.
The Billings Food Bank assumes a leadership role in feeding the hungry and delivering quality food and other products through client agencies, as well as playing a strong role in education and advocacy for hunger related issues. If you have any questions, or would like to volunteer, please feel free to contact Sheryle Shandy at (406) 259-2856.
The Billings Food Bank provides about 14 million pounds of food annually, to folks needing food assistance? Because of the continued efforts of the Billings Food Bank and it's supporters many people will eat nutritious food today – people that would otherwise go to bed hungry and worrisome about their next meal.
In the last five years we have also established the Fortin Culinary Center where we teach culinary job training skills. We have so far had 98 graduates of this program with a 99% success rate of those truly wanting to work. The demand for people with culinary skills is tremendous. We have a very strict set of rules for our students as there is no charge for the course, but if you don't show us you are dedicated, you are not allowed to continue. We have literally changed lives with this program. We are truly proud because we have moved many of our students from a generational norm of 'living on the system', to now being productive members of the work force. Our Fortin Culinary Center has also become a source of revenue and training for our students, and others. We have a large reception hall seating 300 which can be divided into two sections for meetings, weddings, receptions, company parties, memorial services, job training sessions, Serv Safe Classes, etc. We serve many banquets on a regular basis, which, of course, is tremendous training for our students.
"Billings Food Bank was formed in 1982. Originally designed to serve agencies having food programs, and primarily in Yellowstone County. It has now evolved into a truly independent food bank responding to requests from anywhere, throughout the state, the country and, in many cases beyond. If we have the ability to help, we do."