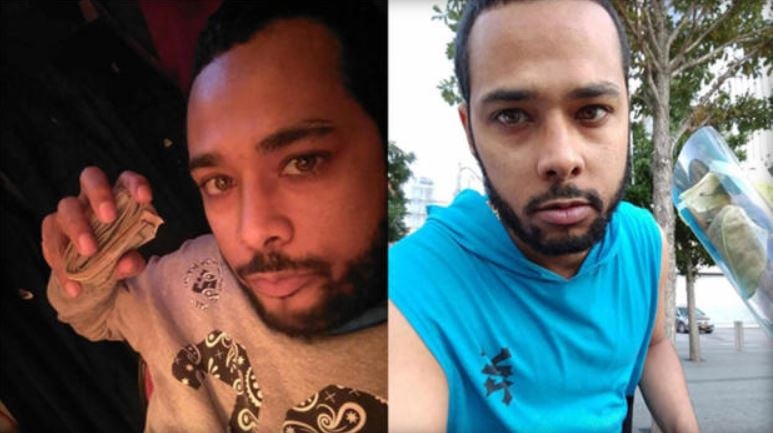 (Victor Casillas is seen in photos obtained by the FBI. / FBI)
A New York City man allegedly threatened to carry out a "Las Vegas repeat" three days after a gunman killed scores of people from his hotel room on the Vegas Strip, according to federal court documents.
Victor Casillas, 34, was arrested Tuesday night by FBI agents on charges of making extortionate threats against a Denver company and its employees, CBS News justice reporter Paula Reid reports.
Casillas faces up to 20 years in prison if convicted, Reid reports. He's expected to appear in court in the Brooklyn borough of New York Wednesday afternoon.
In a message obtained by the FBI, Casillas allegedly wrote that his issue with the unnamed company was over "a petty $100," according to court documents.
The company markets a mobile app that rewards people with credits for referring the company's services to others. The company locked accounts that it believed belonged to Casillas following suspicions that he was using them to fraudulently acquire credits, which can be redeemed for money.
On Sept. 26, the company deactivated one of the accounts, and it started receiving threats.
"Such a cowardly act on your behalf whats your name btw?" read a message the company received that same day. "I wanna know who your spouse and children are too and I'm not asking you I'm telling you, I want to know who your parents are as well if the pieces of trash are even still alive (for now) for that matter."
Two days later, the company received a message listing seven of its employees' names and saying that the writer was in Colorado.
"I just cant wait to reality hits and you (the current reader) or co workers are laying in their casket all for a petty $100," read an all-capital-letters message the company received on Oct. 1.
On that same day, authorities say Stephen Paddock opened fire on the Route 91 Harvest music festival from his room on the 32nd floor of the Mandalay Bay hotel casino, killing 58 people before he killed himself.
On Oct. 4, the company received a message warning it to "get ready for a Las Vegas repeat." The company was able to determine that the message originated in Brooklyn.
© 2017 CBS Interactive Inc. All Rights Reserved.